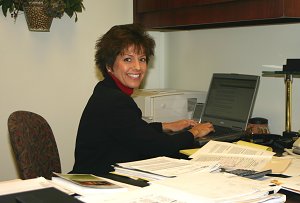 Cynthia M. Tretter
School Business Administrator
Mrs. Tretter is a Certified Public Accountant licensed in New York State. She received her B.S. in Business Administration with a concentration in Accounting from Rochester Institute of Technology and her M.S. in Education from SUNY Brockport. She holds a Certificate of Advanced Study in School Business Administration and is recognized as a Registered School Business Official internationally.
Her professional areas of experience include:
Financial reporting and analysis
Audit liaison and oversight
Budget control, analysis and model implementation
Sponsored Programs and grant management
All technical areas of accounting, taxation, finance and treasury
Prior to joining the Akron Central School District, Mrs. Tretter worked in the following areas:
Daemen College

- Controller & Assistant Treasurer

Rochester Institute of Technology - Adjunct Faculty College of Business

Cynthia M. Tretter, CPA - Sole Proprietor accounting, tax, consulting service

KPMG - Government & Not-For-Profit Specialist
Mrs. Tretter is personally committed to service and civic responsibility and
has served in the following organizations:
Camp Good Days and Special Times (

Advisory Board Member 2003-2004

)

Akron Central School Board of Education (

1996-2002, serving as President 2000

)

Akron PTA (

1994 present, serving on Executive Board 1997-2000 and Treasurer 1999-2000

)

Akron-Newstead Rotary Club (

1996-1999, serving as Treasurer, 1997-1999

)

Akron Chamber of Commerce Board of Directors (

1995-1997, serving as Vice Prsident 1996-1997

)
.