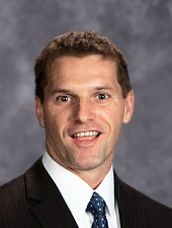 About Mr. Caprio
Mr. Joseph Caprio III began his career in education at Akron Central School in 2002.
He served as a Health/Physical Education teacher as well as football, wrestling and track coach from 2002-2006.
During the summer months, Mr. Caprio worked as a painter and laborer on the ACS maintenance staff.
In 2006, Mr. Caprio left Akron to teach Health at Royalton- Hartland Central School District. He returned to ACS as Athletic Director/Assistant Principal in July, 2010 and during the summer of 2012, Mr. Caprio was appointed Middle School Principal.
Mr. Caprio holds a Bachelor's Degree from Canisius College, a Master's Degree from Buffalo State College and a Certificate of Advanced Study from Canisius College.
"I am very fortunate to be a part of the Akron Central School District," commented Mr. Caprio.
"As a graduate of Akron and a long time community member, it is important to me that I give back to ACS.
Some of the greatest lessons I have learned came from my experiences at Akron.
I have had many people go out of their way to teach me, guide me and influence my life in a positive way.
I feel I was prepared to be successful in college and career largely because of my experiences at Akron Central and because of those people who took the time to help me."
Mr. Caprio is passionate about seeing his Middle School students succeed.
"The message I want to send to our students is that I believe anyone can achieve anything if they are willing to be persistent and focused on their goal.
I believe learning is a life-long process that we should always be striving to get better at," he said.
He's also fervent about his profession and that of his colleagues working in the classrooms.
"I think being an educator is one of the most important professions in the world because of the influence we have over students. As an educator, it is important to remember that you often have the ability to leave a positive or negative experience with a student. It is my goal to leave as many positive experiences at Akron as I have received while working to improve our tradition of strong academic expectations."